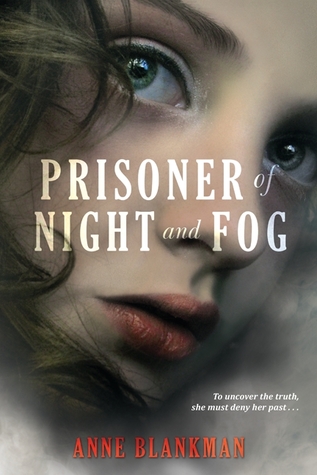 Title: Prisoner of Night and Fog
Author: Anne Blankman
Publisher: Balzer + Bray
Publication Date: April 22, 2014
Pages: 401
Genre: YA, Historical Fiction, Mystery
Series: Prisoner of Night and Fog #1
Source: Library
Rating: 5/5
Summary (from Goodreads):
Uncle Dolf is none other than Adolf HitlerIn 1930s Munich, danger lurks behind dark corners, and secrets are buried deep within the city. But Gretchen Müller, who grew up in the National Socialist Party under the wing of her "uncle" Dolf, has been shielded from that side of society ever since her father traded his life for Dolf's, and Gretchen is his favorite, his pet.Uncle Dolf is none other than Adolf Hitler. And Gretchen follows his every command.Until she meets a fearless and handsome young Jewish reporter named Daniel Cohen. Gretchen should despise Daniel, yet she can't stop herself from listening to his story: that her father, the adored Nazi martyr, was actually murdered by an unknown comrade. She also can't help the fierce attraction brewing between them, despite everything she's been taught to believe about Jews.As Gretchen investigates the very people she's always considered friends, she must decide where her loyalties lie. Will she choose the safety of her former life as a Nazi darling, or will she dare to dig up the truth—even if it could get her and Daniel killed?
My thoughts . . .
An incredible novel that sheds fresh light on a ruthless leader through the eyes of a young lady from his inner circle, who falls in love with a Jew!
As a history nerd, I was extremely excited for this novel to come out, and I must say, it was no disappointment. Blankman crafted an incredible story, woven with the feelings many felt during that difficult time. Gretchen, the main character (who I adored!) has a difficult life. She might be loved by Hitler (as odd as that sounds) but she has an intimidating brother, who is not afraid to harm anyone or anything, a mother who refuses to intervene, and a father who sacrificed his life to save Hitler's. But when Gretchen meets Daniel, she was hesitant of interacting with a Jew; it went against everything she was taught. But when she pushed those tainted thoughts aside, she learned the truth behind Hitler and the National Socialist Party. If you are not a fan of history, don't let this novel scare you away. Putting the historical context aside for a moment, it's a story about a young woman who discovers herself, and breaks free from what she has been taught and the people who have influenced her morals.
It has opened up my eyes. About what truly goes on in a person's mind and how much hurt one may feel underneath all that stature and power. Personally, it has peaked my interest regarding Hitler's complicated mind (but don't forget, I love history).
I have found that YA historical fiction novels can be a hit or miss. They can either sound like a textbook, reiterating the facts of said time period, or artfully craft a wonderful story regarding a specific time in history. I can say with confidence that Prisoner of Night and Fog falls in the latter category.
Do not feel intimated by reading a novel about World War II (as book stores are flooded by novels of this topic) as Prisoner of Night and Fog shines from the rest. It sheds light on a different idea of World War II and Hitler's rise in power. Instead of a book from the point of view of the Allies, how about from that of a woman who is loyal to Hitler, himself? Fascinating, right?
Overall . . .
All I can say is, Prisoner of Night and Fog will show you the interesting side of history, and unravel a beautiful story, filled with love, struggle, and a mysterious death. Please, if you have not read this book already, read it! You will not regret it, I promise! Instead, you'll be anticipating the sequel like I am. . . and swooning over Daniel.