Review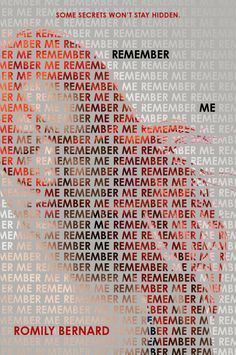 Title: Remember Me
Author: Romily Bernard
Publisher: HarperTeen
Publication Date: September 23, 2014
Pages: 355
Genre: YA, Thriller, Mystery
Series: Find Me #2
Source: eARC
Rating: 5/5
Summary (from Goodreads):
In the sequel to Find Me, Wick Tate, sarcastic teen hacker, is back and once again dealing with criminals and corrupt cops…and a brooding new love interest. Will Wick persevere when some secrets refuse to stay hidden?
Wick had thought her troubles were over.
But she should've known better.
Not only is she embroiled in a new murder case, which starts with a body with "Remember Me" carved into it and doesn't stop there, but she also discovers new evidence surrounding her mother's suicide…which leads her right back to her imprisoned deadbeat dad. And she has to deal with her flirty new hacker friend, Milo, sniffing around—which her boyfriend, Griff, isn't too happy about.
The pressure might be too much as secrets—including Wick's own—climb to the surface.
Goodreads |  Amazon | IndieBound | Barnes & Noble  | Book Depository  | Books-A-Million
DISCLAIMER: I received a copy of this ARC in exchange for an honest review. All thoughts are my own.
WARNING: contains minor spoilers.
After having read FIND ME, I couldn't wait to get my hands on REMEMBER ME. Having to wait an entire year was going to be difficult, but luckily, Romily Bernard was able to kindly send me an eARC! After having read the sequel, I was not disappointed whatsoever.
The plot was intriguing and kept me guessing until the very end, the characters were original, and the mysterious/thriller edge was still there.
WICKET.
In FIND ME, Wicket proved to be a tough gal who grew up around sketchy people and worked in an illegal industry as a hacker, yet always put her sister before her, revealing her protective and loving side. In REMEMBER ME, Wicket wanted to put the past behind her but given certain circumstances was unable to, thus she focused on surviving the various obstacles placed in her path and protecting everyone she knew and loved, even at a price. I admired how in REMEMBER ME, we saw a softer side of Wicket; the raw emotions she felt of not being able to put her past in the past and the fear of losing her friends and family. Together, we discover more of Wicket's past, especially surrounding her mother's death and it opens new doors that sheds fresh light on Wicket and what sculpted her into the person she became.
GRIFF.
It is a bit of a disappointment that Griff didn't play a major role in REMEMBER ME, but he wasn't entirely missed either. In the beginning Griff was a loving boyfriend to Wicket, he looked out for her and wanted the very best for her. VIEW SPOILER
MILO.
A new character that I personally admired. He added another layer of depth to REMEMBER ME and became a great companion to Wicket. A hacker, just like Wicket, he was sought after to build a system for Wicket and even after completing his assignment, stuck around from then on. He provided a great deal of help to Wicket, saving her at precisely the right moment. It was clear that Milo began to fall for Wicket, especially after having discovered that she was a girl, but I admired that romance didn't immediately blossom between them. I loved the heart-to-heart moment they shared together at one point, but what I admired the most was the friendship that developed. They were so alike, it was clear they needed to share their hardships with someone who understood.
PLOT.
Wow, is the best word to sum up the plot. From the beginning to the end, the plot shifted tremendously, but at a great pace. It opened up with a murder that took place at an event Wicket attended and ended on a completely different note that still connected back to the murder. I love how complex the plot was, how everything that took place somehow crossed paths on a personal and not so personal level. The best part is when you suspect one person did it, but it was someone else who was not on the radar. Brilliant!
WRITING STYLE.
I must give Ms. Bernard a huge round of applause to how well-written REMEMBER ME was. As I read the book, I could feel the emotions Wicket went through, when she was in a frightening situation, when she was taken off guard, and when she was simply exhausted by everything that took place around her. You can clearly imagine yourself in Wicket's shoes and witness how difficult it is to escape one's past, especially one as tainted as her by negative influences.
OVERALL.
REMEMBER ME is an exceptional sequel to an already adored novel. Everything, from the beginning to the end was well planned, well written, and of course, enjoyable. I loved how REMEMBER ME took us on a roller coaster ride, filled with unexpected twists and turns, leaving us intrigued until the very end. If you have not read FIND ME, I suggest you do, especially before REMEMBER ME is published.
Have you read FIND ME already? What were your thoughts? And if so, are you excited for REMEMBER ME?
---
Author Interview
Thank you Romily for agreeing to be interviewed!
What inspired you to write FIND ME? How did the idea originate?
I had this idea for a cop circling a house while a terrified girl watched him test the windows and doors, praying they would hold. No idea why she was scared of him or why he was so interested in her so I set about trying to figure that out.
Do you see yourself in Wicket?
Nah, not really. I think I would pass out from shock if I had to do HALF the stuff Wick has to.
Did you learn anything from writing your book, and if so, what was it?
Oh, gosh. I learned SO MUCH about computers and networking. Specifically, I learned that I will never really understand it haha. I'm so grateful I had consulting help on the technical aspects. Otherwise, we would be looking at a very different novel. Probably one where hamsters power the computers.
Do you recall where your interest in writing came from?
Sadly, it is just the way my brain is wired. I used to wish for an accounting brain, but it never happened.
Any advice to aspiring writers?
Never ever ever give up. I had 246 rejections before my first "yes." I bet you can do waaaaayyyyy better than I did.
Which books have influenced you the most?
Oh, gosh, I read across so many genres and am a total fangirl, but, off the top of my head, probably…Dennis LeHane, Lisa Gardner, Laini Taylor, Courtney Summers, Suzanne Collins, Rainbow Rowell, Harlan Coban…yeah I should probably stop now or we'll be here all day
Can you share a little bit about TRUST ME?
Well, I made things a lot worse for Wick in REMEMBER ME so I kinda had to fix them in TRUST ME, but…you know…stuff happened *rubs evil author hands together and cackles* There are some new hackers, some old enemies, and Wick has to confront her past in order to figure out her future. I'm really happy with the way it turned out actually. I hope you guys will enjoy it too.
---
About the Author
I graduated from Georgia State University with a Literature degree. Since then, I've worked as a riding instructor, cell phone salesgirl, personal assistant, groom, exercise rider, accounting assistant, and, during a very dark time, customer service rep.
So don't let anyone tell you a BA degree will keep you unemployed.
---