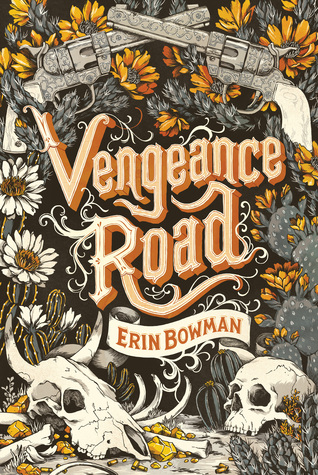 Title: Vengeance Road
Author: Erin Bowman
Publisher: HMH Books for Young Readers
Publication Date: September 1, 2015
Pages: 336
Genre: YA, Western, Historical Fiction
Series: Standalone ?
Summary (from Goodreads):
When Kate Thompson's father is killed by the notorious Red Rose Gang for a mysterious journal that reveals the secret location of a gold mine, the eighteen-year-old disguises herself as a boy and takes to the gritty plains looking for answers and justice. What she finds are devious strangers, dust storms, and a pair of brothers who refuse to quit riding in her shadow. But as Kate gets closer to the secrets about her family, she gets closer to the truth about herself and must decide if there's room for love in a heart so full of hate.

I am soooo excited for this novel! I have never read a western inspired novel before, and this one sounds amazing! I cannot wait for its publication. Unfortunately, I have not read any of Erin Bowman's novels (although I plan to one day) but I have heard so many positive reviews so I am sure I won't be disappointed.
Also, just look at the cover! It is stunning; I love the font and overall feel of it. It definitely would look amazing on my bookshelf.
I am honestly at a loss of words, I am just so excited and wish fall would come sooner!
Do you have any novels you are excited for? If so, which one(s)?