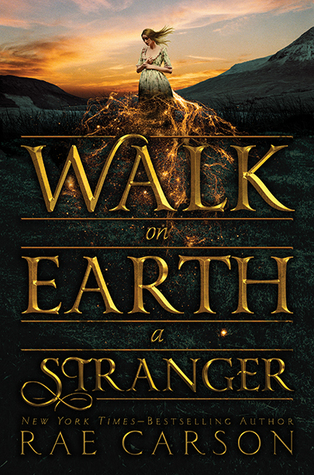 Title: Walk on Earth a Stranger
Author: Rae Carson
Publication Date: September 22, 2015
Genre: Young Adult, Fantasy, Historical Fiction
Series: The Gold Seer Trilogy #1
Rating: 4/5
Gold is in my blood, in my breath, even in the flecks in my eyes.

Lee Westfall has a strong, loving family. She has a home she loves and a loyal steed. She has a best friend—who might want to be something more.

She also has a secret.

Lee can sense gold in the world around her. Veins deep in the earth. Small nuggets in a stream. Even gold dust caught underneath a fingernail. She has kept her family safe and able to buy provisions, even through the harshest winters. But what would someone do to control a girl with that kind of power? A person might murder for it.

When everything Lee holds dear is ripped away, she flees west to California—where gold has just been discovered. Perhaps this will be the one place a magical girl can be herself. If she survives the journey.

The acclaimed Rae Carson begins a sweeping new trilogy set in Gold Rush-era America, about a young woman with a powerful and dangerous gift.
Walk on Earth a Stranger is a western historical fiction novel dating back to the Gold Rush in America, with a fantasy twist. The plot is filled with adventure, the struggles of traveling west, and the strong desire to find gold.
What I admire about this novel is its historical accuracy-I truly felt like I traveled back in time to America in the 1800s, where the Gold Rush was in the air. The characters had a distinct southern dialect, and the atmosphere screamed cowboys and the Wild West.
The downfall of this novel-at least for me-is the pace. There were times where I felt the story moved along too slowly, and there were moments where I felt like abandoning it altogether. What kept me motivated to continue was my curiosity of what would happen in the end. Another issue I came across was the way the "incident" occurred, and Leah jumping to conclusions as to who was held responsible. Though later on her hutch was confirmed, it felt rushed, in my opinion. Due to the awkward pacing at times, and how the story seemed to drag, detracted from my overall enjoyment. It was not always a fluid, fast-paced read; however, the characters were rich and the fantasy element was very unique and held my attention. Although I wish there was more world-building and opportunities to get to explore the characters, I have high hopes that my questions and desires will be answered and met in the sequel.
Overall, if you want to explore a Western novel with a fantasy twist, Walk on Earth a Stranger is a compelling contender. Its uniqueness and historical accuracy will suck you into another time in America's history, one in which many Young Adult novels have yet to explore. It is a novel worth reading, and I, personally, will give the sequel a chance. Hopefully it will exceed my expectations and further develop this incredible concept.