Tag Archives:
Sarah J Maas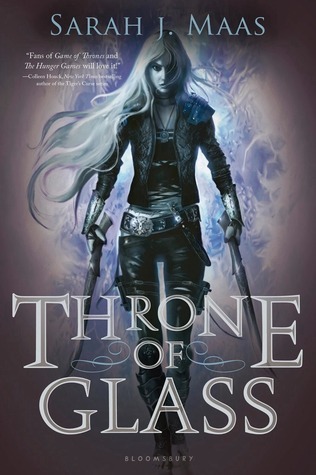 Title: Throne of Glass
Author: Sarah J. Maas
Publisher: Bloomsbury
Publication Date: January 1, 2012
Pages: 404
Genre: Young Adult, Fantasy
Series: Throne of Glass #1
Source: Library
Rating: 5/5
Summary (from Goodreads):
In a land without magic, where the king rules with an iron hand, an assassin is summoned to the castle. She comes not to kill the king, but to win her freedom. If she defeats twenty-three killers, thieves, and warriors in a competition, she is released from prison to serve as the king's champion. Her name is Celaena Sardothien.

The Crown Prince will provoke her. The Captain of the Guard will protect her. But something evil dwells in the castle of glass–and it's there to kill. When her competitors start dying one by one, Celaena's fight for freedom becomes a fight for survival, and a desperate quest to root out the evil before it destroys her world. 
Goodreads |  Amazon | Barnes & Noble  | Book Depository 
My Thoughts . . .
Wow! Honestly, I cannot believe I took so long to start this series. I immediately fell in love with the world Sarah J. Maas artfully crafted, the characters, and the intriguing plot. I personally am not a huge fan of fantasy, but this one is incredible, whether you are a lover of fantasy or not. It is quite difficult, as I sit down and write this review, to put my thoughts into coherent sentences because all I want to do is spill my fangirl thoughts all over this post into an immense blob. But to start somewhere, the world building was absolutely incredible. I felt like I was in the world with the characters, feeling what they experienced–from Celaena working in the mines to when she visited the glass castle for the first time (yes, the castle is made entirely of glass!).
The creativity that oozed between the pages of this novel was overwhelmingly awesome. I loved the incorporation of magic (and how it played a major role towards the end) and diversity of the characters, where we were able to learn more about where they came from. Once I was officially sucked into the novel, so many twists and turns took place that kept on surprising me and grew more and more interesting and unbelievable. So many times my face displayed how shocked I felt when one piece of information was revealed.
But the best part was definitely the characters. I am and will forever be Team Chaol! ❤ However, I loved Dorian as a person. Despite possessing royal blood, he visibly turned away from his father's actions, believing that the way he expanded Ardalan was unacceptable, forcing thousands of people to be enslaved or killed. He also loves to read, so that's always a plus. Chaol, on the other hand, was less readable (no pun intended ;)). Being Captain of the Guard, he could not openly express his emotions, but I loved the times when Celaena caught him smiling. Those rare moments only fueled my love for them. Although a love triangle sort of appears, it becomes less of a triangle at the end. As much as I love romance, I am glad it did not play a major role, as greater emphasis was placed upon the plot and Celaena competing to become the King's Champion, where after serving him for four years she gains her independence.
Throughout this novel, I loved Celaena more and more and saw her grow over the course of the novel. As an assassin, she made that perfectly clear in the beginning with her bad ass attitude, but showed a different, less aggressive side to her. Despite how different we both are, I could still relate to her and I would love to have her as a friend. I know she would always have my back. If there is anything for you to take away from this rambling review, it is this: if you want to fall in love with a strong female character, her love interests, and root for her, while bone chilling and unexpected events take place in an incredible fantasy world, this novel is for you.
My Favorite Quotes . . .
"Libraries were full of ideas–perhaps the most dangerous and powerful of all weapons."
"With each day he felt the barriers melting. He let them melt. Because of her genuine laugh, because he caught her one afternoon sleeping with her face in the middle of a book, because he knew that she would win."
"How long was I asleep?" she whispered. He didn't respond.
"How long was I asleep?" she asked again, and noticed a hint of red in his cheeks.
"You were asleep, too?"
"Until you began drooling on my shoulder."
"As my friend, you should either bring me along, or keep me company."
"Friend?" he asked.
She blushed. "Well, 'scowling escort' is a better description. Or 'reluctant acquaintance', if you prefer."
"I'm not ill like that," she groaned. He sat on her bed, peeling back the blanket. A servant entered, frowning at the mess on the floor, and shouted for help.
"Then in what way?"
"I,uh…" Her face was so hot she thought it would melt onto the floor. Oh you idiot. "My monthly cycles finally came back!"
His face suddenly matched hers and he stepped away, dragging his hand through his short hair. "I-if…Then I'll take my leave," he stammered, and bowed. Celaena raised an eyebrow, and then, despite herself, smiled as he left the room as quick as his feet could go without running, tripping slightly in the doorway as he staggered into the rooms beyond."
Overall . . .
If you have not yet been given the honor of reading any of Sarah J. Maas' work, take this as an incentive to do so as soon as possible! Trust me as I say you will fall in love with Maas' prose, as well as the world and characters she artfully crafted within Throne of Glass. The setting and plot is original and unique, which can be a struggle to find in YA these days. Although this novel is filled with serious tones, there are many times where I could not stop laughing. It is a novel that brings the best of both worlds, the moments when you fear something atrocious is about to happen, to moments where you literally laugh so hard you start crying. I personally admit to trying to fight a grin off my face as I read a scene in public. I bet my struggle only made things worse. Anyways, if you want to experience the incredible world and story in Throne of Glass, I highly recommend you start reading it right away! I cannot stress that enough, reading this novel is the only way to understand what I have been trying to get across since the beginning of this review: that it is amazing!
Thank you Safah @ Midnight Page Turners for buddy reading Throne of Glass with me! It was so much fun and I appreciate being able to vent to you at the click of a button.
Have you read Throne of Glass? If so, what were your thoughts? If not, you should be busy reading it.